I will be creating some more lightly designed mooks in the next two hours. I want to bend the rules for a moment here for this next character. We do not have much in the way of mooks at the moment, and I already have three characters. I submit Doppelgänger below to you as a mook that we can regularly abuse, and he will routinely show up again-sort of another Waspinator/Buzzbomb. He is a bit more powered and developed than I believe you prefer for a mook. Doppelgänger will give other players some additional challenge in a fight, and his ability to reconstruct himself will give other players the ability to damage and violently hurt him to their heart's content without me feeling bad that my character is being abused (as long as he spans more than 2-3 posts). A few days later, he will have picked himself back up since it would take days if not weeks depending on the damage. This is up to you Psycko. Let me know what you think. By the way, his nickname is Dop Dop, and we can refer to him as Dop Dop.
~
Name:
Doppelgänger
Aliases:
Dop Dop
Faction:
Junkion
Gender:
Male
Height:
8'
Status:
Mook
STATISTICS:
Strength: 6
Speed: 10
Brawling: 6
Intelligence: 5
Firepower: 8
Aim: 5
Courage: 6
Toughness: 9
Description
Vehicle Mode:
I have provided an image below of the motorcyle drone from Terminator: Salvation. Doppelgänger's vehicle mode is generally based on this. The entire chasis has the same overall design. Here are the following differences:
- The overall chasis is not refined. There is random mechanical junk mixed in randomly. Some of the junk is only holding together loosely.
- The paint does not look so nice. The outer appearance seems to be rusted and old; the majority of the body has been reconstructed from mechanical junk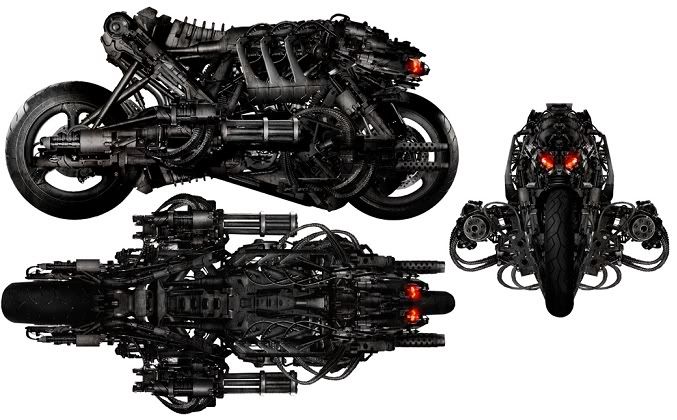 Transformation into Robot Mode:
Doppelgänger's legs and arms seperate from the body. The back wheel splits and becomes the heels of his feet giving him great speed in robot mode along with the mini-turbines scattered along his junk form. The front wheel splits and merges with his forearms allowing him to rotate his hands completely around at high speeds in robot mode; this is useful for slapping people. The head buldges a bit and maintains the two small glowing orange optics in each eye socket; tubes and protruding pieces of junk stick out from his mouth area and move as he talks-as if he was part alien, squid or Cthulu.
Weapons
Gattlings: In both vehicle and robot mode, Doppelgänger has two extra arms with gattling guns instead of hands. They often sputter and misfire, but they get the job done. Doppelgänger recycles bits of his own body for the ammo. You will often see him picking up dropped rounds and mechanical body parts off of the ground to refill himself during a fight.
Blades: In both vehicle robot mode, he can extend parts of his mechanical 12 inches outward. He will use sharpened, jagged, broken edged, and sometimes dull edged pieces of himself as bladed weapons when the need arises.
Equipment
Swiss-Army-Media-Players: Doppelgänger can sprout small arms from near any area of his body. Instead of hands, there will be small TV screans, audio speakers, ipods, cassette players/recorders, cd players, portable video disc players, and just about anything along those lines.
Solar Panels: Doppelgänger has small patches of randomly placed solar panels over his body. Doppelgänger cannot survive on these. They are usually used to power his many media player related gadgets. If his body is taken apart, these will sustain his spark for a stellar cycles (several days).
Unique Traits
Junkion Reassembly 2.0: Junkions use a unique version of healing nanites in mech fluid to reassemble their bodies from extra scrap parts even after being offline. As Autobots and Decepticons evolved into Maximals and Predacons to become more energy efficient, Junkions have as well. Solar cycles (several days) after being torn apart and left offline, Doppelgänger's nanites will begin to reassemble his torn apart body. Limbs can be replaced at will as long as there is no significant damage at the point at which the limb reconnects; otherwise, it would take a few megaclicks (minutes) for the limb to be fully functional. Mechanical junk can be used to rebuild parts of the body as well; there is no real sense to how the junk would be arranged-as long as the junk maintains his motorcycle alternate mode.
Skills
Mass Media Trivia
High Speed Manuevering
Navigation: Desert
Personality
Doppelgänger is wildly bi-polar: existing in emotional extremes. Doppelgänger can not control his emotions. Strong emotions like rage and anger can consume him quite easily and strongly. Doppelgänger may completely switch his emotional state if he loses interest in a bot or even loses sight of the bot for too long. You can destroy his body, come back after he has pulled himself back together, and he may have forgotten you or even stop caring than you blew him up. Reguardless, it does not take much to restart his short temper and excite his violent streak.
Doppelgänger does not process information in a coherent manner. Doppelgänger will only speak in the form of mass media: tv shows, radio shows, music, books, poetry, graphic novels, haikus, etc. Sometimes you may even have to express yourself in the form of mass media for Doppelgänger to get the point you are trying to make to him.
A cheep floozie once called Doppelgänger by the name, Dop Dop. It has stuck for quite a while. Doppelgänger will often introduce himself as Dop Dop.
Doppelgänger spends a lot of time in Gildtown. Most often, he will do petty mercenary work to get the credits he needs to play around in Gildtown. When he needs to lay low, he often finds his way to Rotwood, and pays off the corrupt Sheriff, Gloom, to sleep in one of his prison cells.
History
Junkions are created from scrap parts on the planet of junk. Doppelgänger comes from a younger generation of smaller, more energy efficient Junkions. The planet of junk had become overpopulated, and many of the younger generation left the planet to seek opportunity elsewhere.
The outer colony worlds are known for the scrap mechanical parts and junk. Doppelgänger was intrigued and stowed away on a transport; he disguised as junk ready to go into the recycling unit. The transport took him Dustball.
Doppelgänger crazy lifestyle and media-drive personality led him to the obvious choice location of Gildtown. Doppelgänger has never been able to stay there for very long. He often finds himself needing to lay low in Rotwood.
Quotes
wacky wavering intolerent murdering henchman
wacky wavering intolerent murdering henchman
wacky wavering intolerent murdering henchman
Hi, I'm Doppelgänger, fake president and fake CEO of
Guildtowns's wacky wavering intolerent murdering henchman emporium and warehouse
Thanks to a emotional error, I am now currently overstocked on
wacky wavering intolerent murdering intentions
and I am passing on my services onto you!!!!!
Known Crimes
Assault and Battery, Attempted Murder, Breaking and Entering, Disorderly Conduct, Disturbing the Peace, Harrassment, Leud Conduct, Petty Theft (Gambling Credits), Property Damage
Unknown Crimes
Murder
Current Reward For Capture
750 Credits (previously 2000 before the attempted murder charges were dropped to to a lesser degree of assault and battery)